Lost Sacred Precincts are located in the Murond Death City  in Final Fantasy Tactics. Here Ramza fights Balk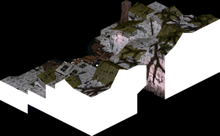 Fenzol, who has been brought back to life by the Lucavi to slow Ramza down. Ramza fights his way through the demons and kills Barich again, then moves on to defeat Alitima in the Graveyard of Airships.
Ad blocker interference detected!
Wikia is a free-to-use site that makes money from advertising. We have a modified experience for viewers using ad blockers

Wikia is not accessible if you've made further modifications. Remove the custom ad blocker rule(s) and the page will load as expected.