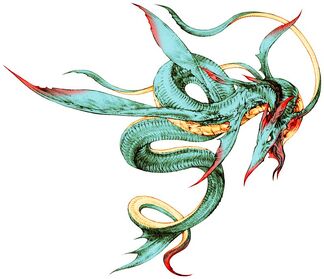 Leviathan can be learned with 850 job points. Summoning it costs 48 MP and it unleashes Tidal Wave, a water-elemental attack that hits all foes in a large area. It has a speed of 15. Leviathan has a 40% chance of randomly being learned in battle by a Summoner who has not yet learned it and is not KO'd by it, or absorbs at least 1 HP worth of damage. Nullifying the damage does not count.
In the PlayStation version, when summoned, the summoner will sometimes say, "Sea fang, attack with water's power! Leviathan!" 
Ad blocker interference detected!
Wikia is a free-to-use site that makes money from advertising. We have a modified experience for viewers using ad blockers

Wikia is not accessible if you've made further modifications. Remove the custom ad blocker rule(s) and the page will load as expected.