Welcome to the Wiki of Final Fantasy Tactics!
This is a wiki about Final Fantasy Tactics video game from PSX to PSP AKA War Of The Lions. Here will tell you everything you need to know about FFT. Be fun, be creative, and do not be mean to one another! Remember to ask admins or the founder for help. HAPPY EDITING!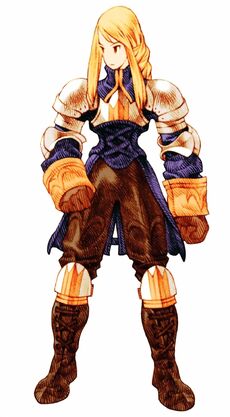 Agrias Oaks Lady Agrias Oaks is Princess Ovelia's bodyguard in Final Fantasy Tactics.
What's everyone's favorite Class Job?
Ad blocker interference detected!
Wikia is a free-to-use site that makes money from advertising. We have a modified experience for viewers using ad blockers

Wikia is not accessible if you've made further modifications. Remove the custom ad blocker rule(s) and the page will load as expected.