Rish marshland in western Limberry. The Dorvauldar River carries fertile soil from here to the plains.
—Description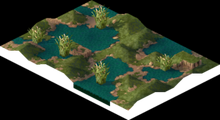 Dolbodar Swamp, is a location from Final Fantasy Tactics. It is located between Bethla Garrison and Limberry
Castle. A rich marshland in western Limberry, the Dorvaulder River carries fertile soil from the marsh to the plains. No storyline battle takes place here and will only appear after defeating Angel of Death.
Ad blocker interference detected!
Wikia is a free-to-use site that makes money from advertising. We have a modified experience for viewers using ad blockers

Wikia is not accessible if you've made further modifications. Remove the custom ad blocker rule(s) and the page will load as expected.